Image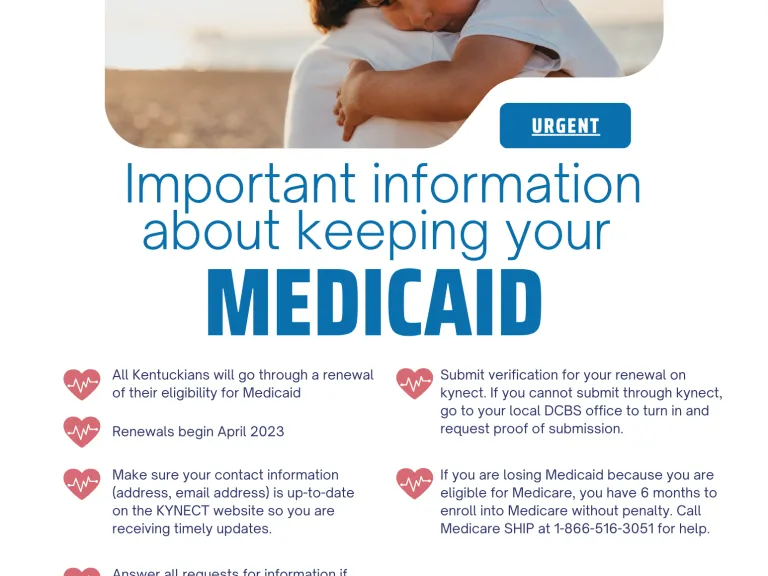 Apr 27, 2023
On January 31, 2020, The Secretary for the Department of Health and Human Services declared a public health emergency (PHE) due to Covid-19. That determination triggered temporary changes to Kentucky's Medicaid program, including:
1. Temporarily waiving some eligibility requirements for certain Medicaid and Children's Health Insurance Program (CHIP).
2. Increase of 6.2% in Kentucky's Federal Medical Assistance Percentage (FMAP) or federal Medicaid matching funds requiring states to continue Medicaid coverage for all enrollees regardless of changes to individual circumstances that would otherwise result in termination (continuous coverage). This increase also required that states not charge higher premiums or change Medicaid eligibility requirements to be more restrictive.
These protections meant more Kentuckians were eligible for Medicaid. The Kentucky Center for Economic Policy reported that Medicaid enrollment grew by 396,896, or 30.2% since the beginning of the COVID-19 pandemic.
Over the past year, the increase of FMAP funds has been rolled back and will phase out completely by April 2023. This comes as the White House has announced that the PHE will end on May 11, 2023. Upon PHE expiration, Kentucky's Medicaid program will unwind PHE flexibility and resume its temporarily waived requirements and conditions.
An estimated 1 in 7 Kentuckians will be required to complete an active Medicaid renewal process as PHE protections end.
Legal Aid of the Bluegrass (LABG) is circulating information about the active renewal process and what Kentuckians can do to keep their Medicaid. As renewals begin next month, we encourage anyone whose Medicaid benefits have been wrongfully terminated to call us at 859-431-8200.
Need Legal Help
Legal aid protects the rights of people living at or near poverty with legal problems such as:  housing, consumer, family and public benefits. We ensure access to justice for all people, including veterans, the elderly, those who are disabled and victims of domestic violence. You can call us to apply for assistance Monday through Thursday 10:00 a.m. – 3:00 p.m. or Friday 10:00 a.m. - 1:00 p.m. Calls are answered in the order they are received. You may also apply online by clicking "Apply For Help" below. Get Updates by Email
To get the latest news and upcoming events, please subscribe to our newsletter.